Our love story: Marcie is from NYC and Caleb is from Wisconsin. We both had lifelong dreams of visiting Iceland. We laid eyes on each other in a hotel lobby in Iceland, and that was it. Both of us never believed in love at first sight or soulmates, but all that changed. We had booked separate trips there, wound up being on the same tour, the same hotel, with our flights leaving minutes apart. We spent the days doing excursions and stayed up all the nights talking. After doing the long distance thing for a few months, Marcie moved to WI.
Venue:Farmin' Betty's in Columbus, WI. We really wanted a place where we could have both the ceremony and reception. This barn is gorgeous, and they also have a stunning cocktail hour and lawn game setting! They also allowed us to set up a day before, have the rehearsal, and clean up a day later, which you can't really find these days. It won our hearts over instantly.
Our favorite part(s) of the wedding: It honestly is just so overwhelming to be surrounded by so much love. We both had many guests travel in from all over the country, so to see everyone mingling, dancing, and enjoying themselves was everything to us.
What was definitely worth it: Having a day of coordinator. We didn't want to spend money on a planner, but our DOC was a savior! She did everything… and more!
What was definitely not worth it: The stress! I am not a perfectionist, but we did a lot of DIY stuff, and you wind up forming an image in your head of what you want. It's important to trust in the venue, the DOC, and the other vendors that things will work smoothly. And if they don't, you won't even know about it!
Our Planning Guidelines: We did as much as we possibly could in the beginning. We had our vendors booked very quickly after we got engaged. It allowed us to take a break around the holidays and enjoy life without too much stress.
Greatest challenge planning the wedding: Since we did a lot of DIY, many things couldn't be done until weeks, even days before the wedding. That time was quite stressful for us. It feels like you will never get everything done… but you need to trust when people say "it all comes together in the end, " because it does.
Resources that helped us along the way: Pinterest, of course!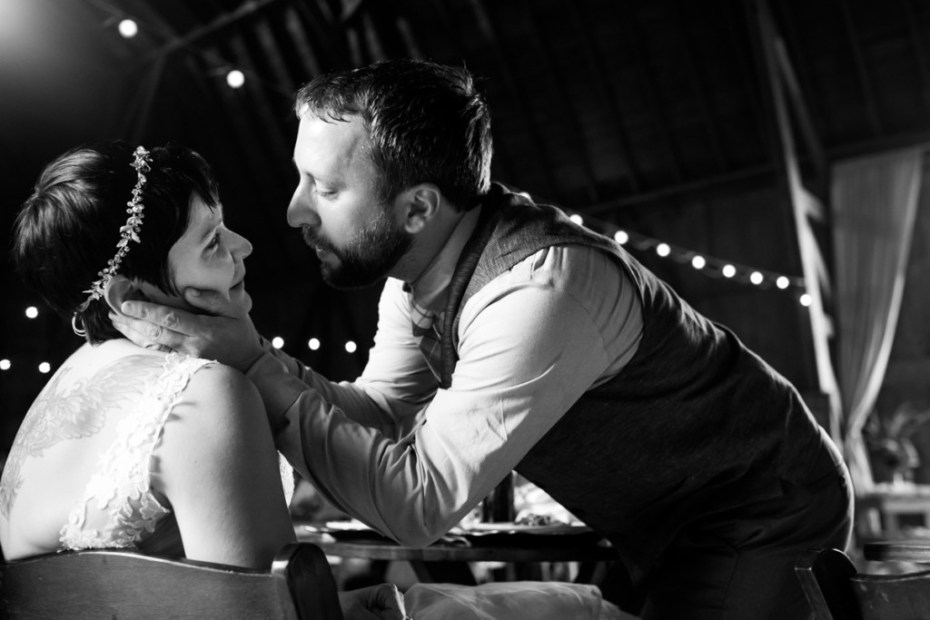 Advice for other people planning their wedding: The day really does wind up being a complete blur. As 2 people that never wanted to get married, it is very surreal that all your planning is coming together in that moment and that you are surrounded by tons of people that love you. We kept looking around and saying "is this real?" "is this really happening?" "did we just get married?" It's important to take it all in and breathe…. Oh, and eat! We definitely didn't eat enough!
Other cool stuff people should know: Caleb is a home brewer who brewed 99% of the beer for the wedding. Our signature drink was an Elska blonde ale (Elska means "love" in Icelandic), and he had a few others brewed for the day. It took him months and months but was more than well worth it. We saved a TON of money by doing that, and our guests loved trying them and loved the personal touch. We bought kegs of other beer just in case anyone wanted something more standard, but they went untapped!
The wedding photos we're most excited to see: The candids that were taken of us and our guests! I know there will be a lot of smiling and joyful faces.
We chose Maureen Cassidy Photography because Maureen did our engagement photos, and it was a blast. We both didn't love the idea of the run of the mill engagement photos, and she was open to all ideas and her input was great! We got to go out, enjoy nature, be ourselves, drink beer, and the pictures came out wonderful! The fact that she is also vivacious and full of life, makes the shoot extremely comfortable and enjoyable. The few wedding photos we have seen so far look stunning! We can't wait for the full set!!!!
Photographer side note: This Wisconsin wedding was in the fall but it was record-breaking hot & humid!  Marcie was the most down to earth bride and decided to not wear her wedding dress after dinner and they quickly moved the dancing from inside the barn to outside on the patio because it was too hot in the barn.  They rolled so fluidly when things were not perfect and they didn't sweat the small stuff or even the big stuff.  After the wedding, I told my husband they gave the perfect amount of fucks.
Planned Budget: We honestly didn't have a set budget. We were realistic about money and saved where we could, hence the tons of DIY stuff we did.
Actual Budget: Would you believe us if we said we didn't know? I think the venue and all of our vendors equaled about $14,000. All the side stuff was extra.
Where we allocated the most funds and the least funds: The most funds went to renting the venue, but 2nd was catering. We didn't want to skimp out on the food. The least amount went to flowers. We kept hearing how floral is the most expensive, but ordering them online was such a breeze!
Vendor Shout-outs!